Your donations are Zakaat eligible and are considered a tax deductible donation.
Paypal Donation: Click here to donate via PayPal
Stock Donations: Please contact issd-boe@googlegroups.com to donate stocks
Pledge Form: Please click here
Bill Payment via Online Banking Account:

Add "Islamic School of San Diego" to your online banking account.
Use the following address for payment : 7202 Princess View Dr., San Diego, CA 92120.
Add "2023 Annual Banquet" in memo.
Can be done once or set it up for automatic monthly scheduled payments

Cash/Cheque Donations:

You may drop off your donations in person at our office at Clairemont campus : 7050 Eckstrom Ave., San Diego, CA 92111.
Our office timings are Monday – Thursday 10:00 am – 2:00 pm and Friday 10:00 am – 1:00 pm.
Date: 02/11/2023
Time: 6:00 PM - 9:00 PM (Registration starts at 5:30 pm)
Location: Muslim Community Center of San Diego: 14698 Via Fiesta, San Diego, CA 92127
Tickets are required for the in-person event.
Adult (12 yrs +): $40 ADVANCE | $50 AT DOOR
Child (2-12 yrs): $10 ADVANCE | $20 AT DOOR
Details Coming Soon!
In order to organize a successful fundraising event, we are seeking the support of local organizations and businesses to help us with the operating costs of the event, enabling us to successfully raise funds for our school. We are expecting people in attendance from all over the county. The sponsorship funds will cover the costs of the facility rental, catering, entertainment expenses, printing & advertising, and equipment rentals. The sponsorship packages give sponsors an opportunity to market their products and services.
Please look at the sponsorship packages and information below. We hope you are able to contribute to help make this a memorable event, inshAllah. We appreciate your time and consideration in support of such an important event. For questions and inquiries, please email us at info.bhabanquet@gmail.com.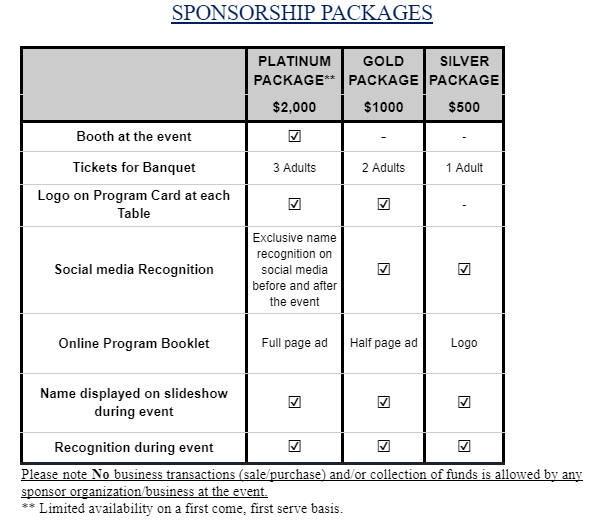 Once you have selected the sponsorship package of your preference, kindly fill out the information using our
Online Information Form (click here)
. 
Please note that your email and online form submission will constitute as your agreement to sponsorship level and remittance of funds
We appreciate your support and involvement in making this a memorable event! Thank You! 
WANT A CUSTOMIZED PACKAGE? Contact us at info.bhabanquet@gmail.com and we'd be happy to discuss it. 
PAYMENT METHOD
Kindly make your checks payable to "Islamic School of San Diego" and send it to the following address:
Islamic School of San Diego
7202 Princess View Dr., 
San Diego, CA 92120
You may also pay via Paypal by clicking here. 
Please mention
Banquet Sponsorship
in the memo.
Payments must be received at the latest by the end of the day on Friday, Feb 3, 2023. 
BHA will send out donor acknowledgement letters for tax purposes to all of our sponsors.
For Platinum package sponsors only
We would  like to remind you that you have the option to set up an information table for your business during the banquet to advertise your business. Please come early at
5:00 pm
and sign up at the registration desk and we will guide you towards your booth. You can bring advertising materials (flyers, handouts, business cards, posters, etc) for your business to be displayed at your table. We would like to remind our sponsors that absolutely no brochures, business cards, or other marketing material is permitted inside the main area on guest tables. We appreciate all sponsors' cooperation. Please let us know if you have any questions or concerns. 
Coming Soon!