Your donations are Zakaat eligible and are considered a tax deductible donation.
Paypal Donation: Click here to donate via PayPal
Stock Donations: Please contact issd-boe@googlegroups.com to donate stocks
Pledge Form: Please click here
Bill Payment via Online Banking Account:

Add "Islamic School of San Diego" to your online banking account.
Use the following address for payment : 7202 Princess View Dr., San Diego, CA 92120.
Add "2023 Annual Banquet" in memo.
Can be done once or set it up for automatic monthly scheduled payments

Cash/Cheque Donations:

You may drop off your donations in person at our office at Clairemont campus : 7050 Eckstrom Ave., San Diego, CA 92111.
Our office timings are Monday – Thursday 10:00 am – 2:00 pm and Friday 10:00 am – 1:00 pm.
Date: 02/11/2023
Time: 6:00 PM - 9:00 PM (Registration starts at 5:30 pm)
Location: Muslim Community Center of San Diego: 14698 Via Fiesta, San Diego, CA 92127
Tickets are required for the in-person event.
Adult (12 yrs +): $40 ADVANCE | $50 AT DOOR
Child (2-12 yrs): $10 ADVANCE | $20 AT DOOR
BHA Annual Banquet Virtual Event
Time: Feb 11, 2023 05:30 PM Pacific Time (US and Canada)
Join Zoom Meeting
https://us02web.zoom.us/j/85950053867?pwd=ZE9jOGROY0VBd1BiWnowNXM4SlRVUT09
Meeting ID: 859 5005 3867
Passcode: banquet
One tap mobile
+16699006833,,85950053867#,,,,*7411799# US (San Jose)
+16694449171,,85950053867#,,,,*7411799# US
Dial by your location
+1 669 900 6833 US (San Jose)
+1 669 444 9171 US
+1 253 215 8782 US (Tacoma)
+1 346 248 7799 US (Houston)
+1 719 359 4580 US
+1 253 205 0468 US
+1 360 209 5623 US
+1 386 347 5053 US
+1 507 473 4847 US
+1 564 217 2000 US
+1 646 931 3860 US
+1 689 278 1000 US
+1 929 205 6099 US (New York)
+1 301 715 8592 US (Washington DC)
+1 305 224 1968 US
+1 309 205 3325 US
+1 312 626 6799 US (Chicago)
Meeting ID: 859 5005 3867
Passcode: 7411799
Find your local number: https://us02web.zoom.us/u/kcxwbV3YpB
Imam Abdul Malik Mujahid
Abdul Malik Mujahid is an American imam, producer, award winning author, and non-profit executive. Mujahid has been selected eight times as one of the "
World's 500 Most Influential Muslims
".
He is the founding president of
Sound Vision
, which was established in 1988 in Chicago, and powers the Burma Task Force and Save Uighur Campaigns. Sound Vision is a non-profit organization which develops Islam-related content for the international news media to develop interfaith peace and understanding. Imam Mujahid was also Chair Emeritus of the Parliament of the World's Religions.  He is also the executive producer of Chicago's radio talk-show program Radio Islam and
Adam's World
. Abdul Malik Mujahid, a local Chicago Muslim leader and founder of Soundvision and Radio Islam, was recognized at an annual event in 2016 for his achievements by the Chicago Muslim community organization, The Council of Islamic Organizations of Greater Chicago. Imam Mujahid has authored more than 400 articles on Islamic living and public policy. His book on political sociology was the winner of an Outstanding Academic Book of the Year Award by American Library Association in 1990.
Imam Dr. Saad Eldegwy, PhD
Dr. Saad Eldegwy holds a Ph.D. in Islamic Studies from Graduate Theological Foundation, South Bend, Indiana. He also graduated with an MA degree in Counseling from San Diego State University and a BA degree in Arabic Language and Islamic Studies from Dar El-Oloum Faculty in Cairo, Egypt. 
Dr. Saad is also a certified haafith of the Holy Quran. Imam Saad also founded and taught in the Quranic and Arabic Studies Academy (QASA) of San Diego, the precursor to IQraa Academy of San Diego, which he co founded in 2012. Dr. Saad has also worked as adjunct professor of Arabic Language and Middle Eastern History at San Diego State University and National University. Dr. Saad is a member of the North American Imams Federation (NAIF), Assembly of Muslim Jurists of America (AMJA), the Muslim Leadership Council of San Diego, and the Interfaith Coalition of East County, San Diego area.  In addition, he is a motivational speaker for Islamic Relief USA, and he is also a certified fundraising manager. Currently, Dr. Saad works as the Director of IQraa Academy of San Diego, where he teaches Arabic, Quran, Fiqh and Tafseer in addition to his director duties.  He is also Imam and Director of the Islamic Center of San Diego-East County.
Fayaz Nawabi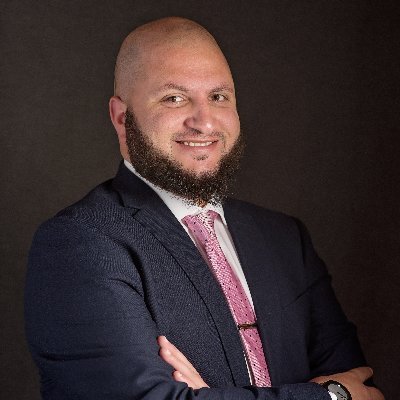 Fayaz Nawabi is an increasingly prominent voice in the American Muslim Community, he is a Hafiz of Quran, community organizer, khateeb and civil rights advocate.
After graduating from San Diego State University with degrees in Public Administration, City Planning and Japanese he served as an Assembly District Delegate for the California Democratic Party. In addition, Fayaz Nawabi serves as the Director of Communications for the California Democratic Party's Arab American Caucus. Moreover, Fayaz currently serves as the Policy and Advocacy Manager for the Council on American-Islamic Relations Greater Los Angeles Office. CAIR-LA serves the more than half a million Muslims that live in the Los Angeles, Orange and Riverside County areas.
In order to organize a successful fundraising event, we are seeking the support of local organizations and businesses to help us with the operating costs of the event, enabling us to successfully raise funds for our school. We are expecting people in attendance from all over the county. The sponsorship funds will cover the costs of the facility rental, catering, entertainment expenses, printing & advertising, and equipment rentals. The sponsorship packages give sponsors an opportunity to market their products and services.
Please look at the sponsorship packages and information below. We hope you are able to contribute to help make this a memorable event, inshAllah. We appreciate your time and consideration in support of such an important event. For questions and inquiries, please email us at info.bhabanquet@gmail.com.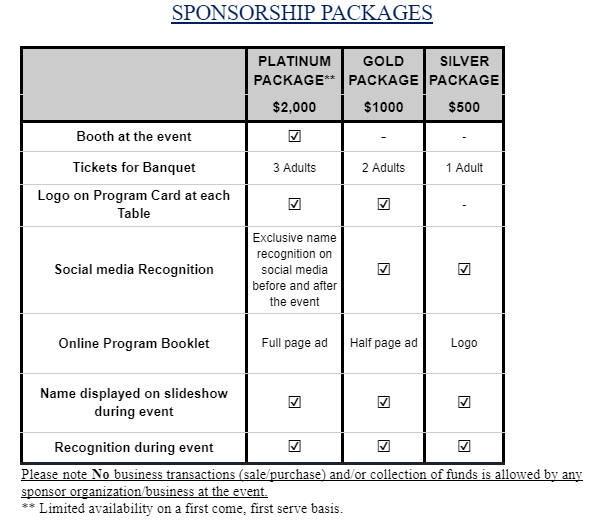 Once you have selected the sponsorship package of your preference, kindly fill out the information using our
Online Information Form (click here)
. 
Please note that your email and online form submission will constitute as your agreement to sponsorship level and remittance of funds
We appreciate your support and involvement in making this a memorable event! Thank You! 
WANT A CUSTOMIZED PACKAGE? Contact us at info.bhabanquet@gmail.com and we'd be happy to discuss it. 
PAYMENT METHOD
Kindly make your checks payable to "Islamic School of San Diego" and send it to the following address:
Islamic School of San Diego
7202 Princess View Dr., 
San Diego, CA 92120
You may also pay via Paypal by clicking here. 
Please mention
Banquet Sponsorship
in the memo.
Payments must be received at the latest by the end of the day on Friday, Feb 3, 2023. 
BHA will send out donor acknowledgement letters for tax purposes to all of our sponsors.
For Platinum package sponsors only
We would  like to remind you that you have the option to set up an information table for your business during the banquet to advertise your business. Please come early at
5:00 pm
and sign up at the registration desk and we will guide you towards your booth. You can bring advertising materials (flyers, handouts, business cards, posters, etc) for your business to be displayed at your table. We would like to remind our sponsors that absolutely no brochures, business cards, or other marketing material is permitted inside the main area on guest tables. We appreciate all sponsors' cooperation. Please let us know if you have any questions or concerns.